Hi,



Welcome to CounselingNH E-Zine. We hope you will be pleased with your subscription. You will be receiving valuable information, tips and resources of ways to enhance your family, marriage, relationships and parenting in our bi-weekly issues. The E-Zine will come out every other Tuesday so be looking for that in your e-mail inbox. Enjoy!

January 20, 2009

Volume 1, Issue #019 A Time For Hope

A Note From Jim

Feature Article: A Time For Hope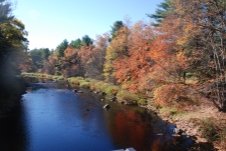 A Note From Jim:
Hi Jim here. I am eager to talk with you about some bservations I have been making lately. I have been seeing a lot of depression in people lately which seems different than clinical depression. This depression is largely based on the difficult realities of current life. People are finding that they have little control over there finances, expenses or the time they are required to work. They don't have the time or the money to go on vacation or to take a break. There credit cards are maxed and they can not keep up. In short, the depression I am seeing in people is a gloomy dread for what tomorrow is going to bring. I'd like to offer some thoughts about a different way of seeing this experience and for a remedy to this experience.
A Time For Hope
The characteristics that I am describing are not those of people who are about to give up rather the groans of tired hard working people who know that they have a long way to go. They are tired and catching their breath before starting on their next lap in life. These people don't need to simply feel better. They need to experience the hope that they are going to get through a difficult time. Today many of us had the opportunity of watching the inauguration of the President of The United States of America. This event symbolizes the most hope that we have seen during the last half century. This hope is that we have a bright, creative, sensitive man leading our country but it is much more than this. The hope that we are experiencing is a result of belief, hope, connection and community for ourselves, our neighbors, our state and our country. The remedy for the kind of depression that people are feeling with the current state of affairs is seeing the light at the end of the tunnel. So long as we can envision this, we can work slowly and steadily towards obtaining our goal just as our President did. It is through our creativity, determination and preserverence that we will accomplish our goals and remedy the depression of our era. Just as the President is bringing a new energy and connection to the people, we can seek a cooperative connection with each other and together we can overcome our adversity.
With new hope and inspiration. Jim _______________________________________________________________ Recommendations:
Nancy Foster, Life Coach Make 2009 Your Best Year. Step toward your dreams. With inspiration, intent, and action you can accomplish anything.
Parent Success Program Our Parent Success Program is a skills based course in parenting. The course covers parenting from birth to adulthood. It is a discussion based class where parents talk about challenges that they are encountering along their parenting journey. Parents discuss, learn and are encouraged. The more involved a parent is increases the liklihood of raising happy and well adjusted children. Our goal is to help, guide and nurture parents so they in turn will confidently help, guide and nurture their children. Please call our office to inquire about your Parent Success Program.(603)668-7744. Parents may attend any or all of the classes. Please see the curriculum in the parenting section of our website http://www.counselingnh.com/parenting.html
WANT TO USE THIS ARTICLE IN YOUR E-ZINE OR WEB SITE? You can, so long as you include this complete blurb with it: Entrepreneur and 30 year expert James Foster publishes the bi-weekly CounselingNH Ezine in the areas of family, marriage, relationships and parenting. If you are interested in quality information, tips and resources of ways to enhance your family, marriage, relationships and parenting visit this content rich site at http://www.counselingnh.com
All the Best,
Jim Foster