Parenting
Positive and constructive parenting is probably the most important, difficult and rewarding experience we will ever encounter. The training we normally receive to do this all important work occurs in bits and pieces. Parents learn through memories of their own childhood, through the advice and criticism of their family and friends, through the media, reading and their own experiences of parenting.


James J. Foster & Associates has developed a parent success program which is a repeating class consisting of ten separate and distinct modules. A person can begin attending at any point, attend ten consistent classes and receive the full benefit of the class. The curriculum focuses on critical issues, and problem areas frequently identified by parents. The information currently available and the contributions of several disciplines have been blended so that a pertinent, dynamic and sound program could be provided to parents.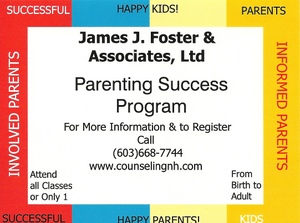 In some instances, a parent may be experiencing an issue so severe or long standing that individualized work is warranted. These parents are welcome to schedule appointments to examine and explore their parenting experience, perspectives, problems and goals as they work towards finding solutions while progress is usually noted without the child(ren) being treated, this format gives the parents and counselor the opportunity of considering whether or not this treatment is indicated.
Contact us for more information, cost and class times.


Sign up for the Bi-Weekly CounselingNH Ezine for FREE Articles, Tips and Resources.
Parent Success Program
Topic Areas Discussed
Bonding and Attachment
A baby cries, a parent soothes and a bond is formed. This process establishes a pattern that determines the way the child will relate to the world. Many issues can develop that complicate life and these will be discussed.
Structure and Discipline
Participants learn that structure is a path that is chosen by the parent(s) which provides safety and security to the child. The importance of consistency is highly stressed. Discipline is described as an enforced structure. Techniques and methods are discussed.
Mothering/Fathering
These are distinct and unique roles in family life that together offers the child a balanced developmental support.
Blending Parental Roles
Integrating separate roles can be complicated and difficult in the intact family and more difficult in the separated family. Guidelines and methods are offered. Parent systems that are problematic and constructive are both discussed.
Empathetic Listening
When we open ourselves to receive and share our children's feelings, we convey and build trust, respect and lay the groundwork for collaborative problem solving.
Pushed to the Limit and Can't Take it Anymore.
Anger Management techniques are described as a way of getting through a difficult time in the present. Developing stategic methods to get children back on the "path" is discussed at length as the best method of preventing a crisis and to plan against its occurrence.
Chores and Allowance
Work and rewards are an intrinsic part of our society. Children need to develop a positive relationship with work beginning at an early age and to expect some type of reward whether intrinsic or concrete.
Family Time, Play & Activity
Much of a child's identity and esteem is based on the way their family relates. Through planned and spontaneous play and activites, families directly impact their children's values, themes, mission statements and labels.
Parent/Child out in Public
Children contend with new, confusing and unexpected phenomenon when in public. Parents learn to systematically prepare their children to continue responding to cues and take directions.
Sibling Rivalry
Sibling rivalry is one of the most irritating and persistent problems that parents encounter. Some causes, dynamics and remedies of this are discussed.
Sex, Drugs and Rock n' Roll (Coming of Age Issues)
In our society, we are limited in the coming of age rituals experienced by our children. We promote parents to employ as many positive features and safe guards as possible for our children's adolescent growth and development.
Domestic Violence
Domestic violence occurs at an epidemic rate in our country. We discuss definitions of abuse and its effect on children. Stopping the violence and protecting our children is the primary goal of this discussion.
**Developmental Issues will be tailored to age of parent's children.