Hi,



Welcome to CounselingNH E-Zine. We hope you will be pleased with your subscription. You will be receiving valuable information, tips and resources of ways to enhance your family, marriage, relationships and parenting in our bi-weekly issues. The E-Zine will come out every other Tuesday so be looking for that in your e-mail inbox. Enjoy!

December 16, 2008

Volume 1, Issue #016 Emergency Ice Storm

A Note From Jim

Feature Article: Emergency Ice Storm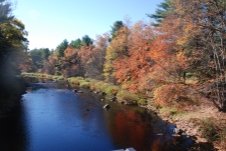 A Note From Jim:
Emergency Ice Storm
Hi, Jim here - bringing you the next bi-weekly E-zine. This article was inspired by our most recent ice storm. This was the most destructive ice storm in New England's history. As I'm writing this, many people are still without electricity and there are those who are predicting that all power won't be restored until Christmas. Our family and household have been very fortunate. We lost power for only several days. This was enough however to have an impact on us.
Finding Calm in The Storm
We were racing towards the end of a busy pre-Christmas week. We had work, school and shopping issues that were choking us. There was too much to get done and certainly not enough time to accomplish it. Some inclement weather was predicted but seemed far removed. It had been raining heavily throughout the day on Thursday. We went to bed with some reference on the news to the possibility of falling temperatures.
We woke up on Friday morning not knowing what time it was. The TV wasn't working and the digital clock was blank. The electricity was out! I remember lying in bed for a few long moments waiting for the power to come back on. It didn't. Initially, the lack of electricity was an annoying, trivial problem that was distracting us from our day. As the day progressed, the size of the issue seemed to grow. School was closed, the house was becoming cold, water couldn't be used and the phones didn't work. Eventually, I had to get out and make it to work for a few hours. This is when it first began to hit me. The streets and highways looked as if we had just experienced a hurricane. Branches were strewn everywhere. Many large trees had fallen. Many roads were closed. Some homes had been hit by falling trees. Many roads were impassable.
By the time I returned home, my wife had fires going in the fireplaces, emergency candles, batteries and water had been found and gathered. My son and I continued to gather fire wood for the night. We raced against darkness and falling temperatures. We slept in the same room together and fed the fire hourly all night.
The next morning we awoke to the fires being low, the house being about 50 degrees and having no more wood available on the back porch. Throughout the day, the kids moved the remainder of our wood pile indoors and portaged twenty five gallons of water into a large clean trash barrel that sat in the bathroom. Their mother and I prepared food to be cooked on a camp stove.
There were times we observed our children during this process. Any semblance of competition or rivalry had vanished. They were working together like a finely trained team. There was no overriding worry about the chore list or the number of shopping days before Christmas. There was only the need to be warm, to have food and to have water. This was a difficult time. It was also a much focused time free from extraneous tensions. We were narrowly focused and life was simple.
Towards the evening of the second day after it was dark and after we finished the meal that was cooked on the camp stove the lights came back on. We stood in amazement for a moment, cheered and then began to put the house back in order. As thrilled as we were to have the electricity, heat and water back on, we stepped from a simple, highly focused survival mode that had been remarkably free from tension back into an "easy and modern" life that was soon filled with lists, tensions and seasonal worries.
This fortuitous process reminded me of the need to occasionally take a break, focus on the here and now and remember what's really important. This regional emergency will prove to be devastating to many people. It could have been to us. Mostly due to the short duration of our power loss we were able to incorporate as a reminder as to how to approach this season.
We wish all of you a safe, happy and healthy Holiday Season
Jim Foster _______________________________________________________________ Recommendations:
Parent Success Program Our Parent Success Program is a skills based course in parenting. The course covers parenting from birth to adulthood. It is a discussion based class where parents talk about challenges that they are encountering along their parenting journey. Parents discuss, learn and are encouraged. The more involved a parent is increases the liklihood of raising happy and well adjusted children. Our goal is to help, guide and nurture parents so they in turn will confidently help, guide and nurture their children. Please call our office to inquire about your Parent Success Program.(603)668-7744. Parents may attend any or all of the classes. Please see the curriculum in the parenting section of our website http://www.counselingnh.com/parenting.html
WANT TO USE THIS ARTICLE IN YOUR E-ZINE OR WEB SITE? You can, so long as you include this complete blurb with it: Entrepreneur and 30 year expert James Foster publishes the bi-weekly CounselingNH Ezine in the areas of family, marriage, relationships and parenting. If you are interested in quality information, tips and resources of ways to enhance your family, marriage, relationships and parenting visit this content rich site at http://www.counselingnh.com
All the Best,
Jim Foster